Ebi Miso Ankake Ramen
New standard menu for winter!
Enjoy the deep taste of miso with the entwined simmering sauce, and the scent of shrimp oil. You will love it!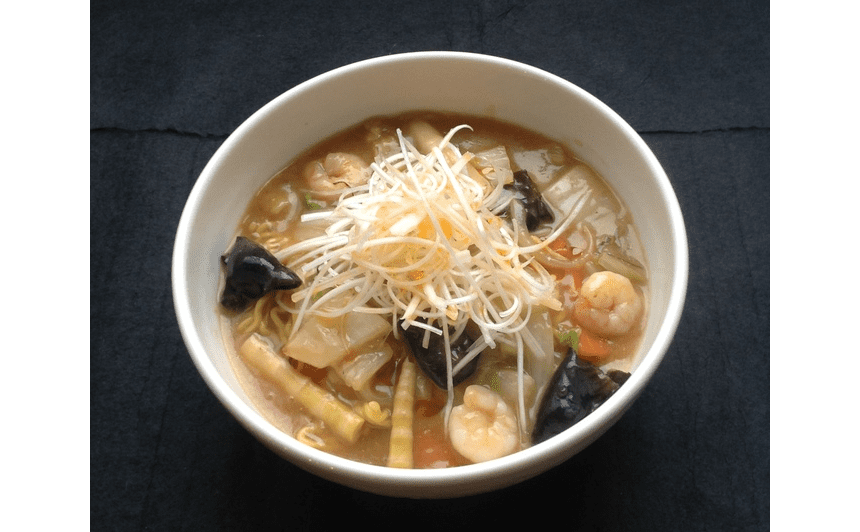 Ingredients
1613 Custom-made Ramen 140g×5

1Tama (a portion of noodles)
10cc
Green onion(white part, thinly sliced)

20g
Gara Soup

400cc
Onion

10g
Chinese cabbage

60g
Wood ear mushroom

10g
Peeled shrimp

5Piece
Carrot

8g
Thin bamboo shoots

2Piece
Potato Starch (1 portion of potato starch for 2 of water)

30cc
Wafu Miso Tare

40cc
How to make
Boil noodles

Heat a chinese wok and add vegetable oil, saute peeled shrimp, chinese cabbage, onions, carrots, wood ear mushrooms, thin bamboo shoots, then pour soup stock.

Scoop miso tare into a Chinese ladle, dissolve into the pot from ② and quickly add starch that has been dissolved in water to thicken.

Place noodles in a donburi bowl and pour an sauce from ③.

Top noodles with thin-sliced green onions and pour a bit of shrimp oil over in a circular motion and dish is complete.

Products used in the recipe