Non-animal Miso Yasai Ramen
Rich taste made even without animal extracts!
Miso ramen with plenty of vegetables made with Sapporo style recipe. No animal extract is used for the soup.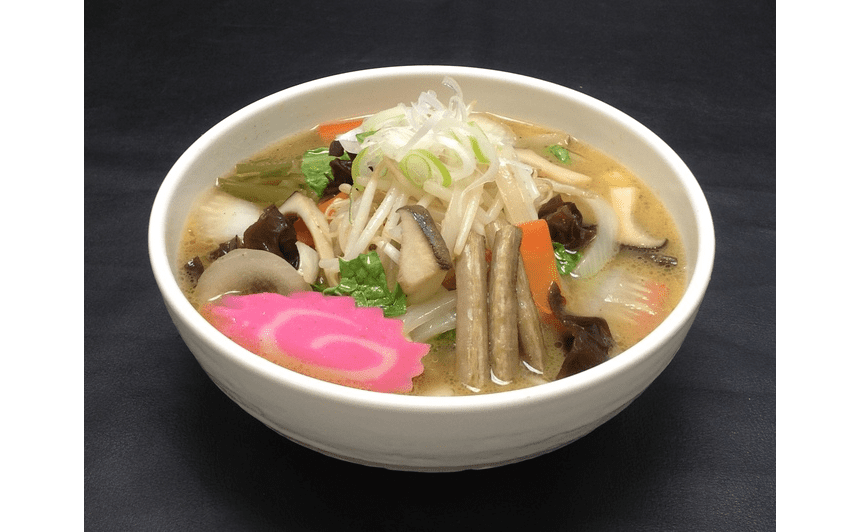 Ingredients
1Tama (a portion of noodles)
AB-270 Nishiyama Shiretoko Shio Tare

50cc
Green onion(chopped)

10g
Gara Soup

400cc
Bean sprouts

80g
Onion

20g
Chinese cabbage

40g
Grated garlic

5g
Wood ear mushroom

10g
Sunflower Oil

20g
Carrot

5g
Sliced king trumpet mushroom

20g
Wakame stem

10g
Naruto fish cake

1piece
Burdock stick

3Piece
How to make
Boil noodles

Oil a chinese wok with sunflower oil and saute grated garlic, bean sprouts,chinese cabbage, carrots, onions, wood ear mushrooms, king trumpet mushroom, then pour 400 cc of soup stock and cook.

Scoop miso sauce into a Chinese ladle and whip, then add to soup from ②. Let boil for 10 seconds, then turn down the heat.

Place noodles in a donburi bowl and add soup from ③, and arrange vegetables.

Garnish with ingredients and dish is complete.

Products used in the recipe