Miso Cheese Wonton Men
Perfect combination of cheese and miso!
Miso ramen with lots of cheese! Enjoy the mild and rich flavor!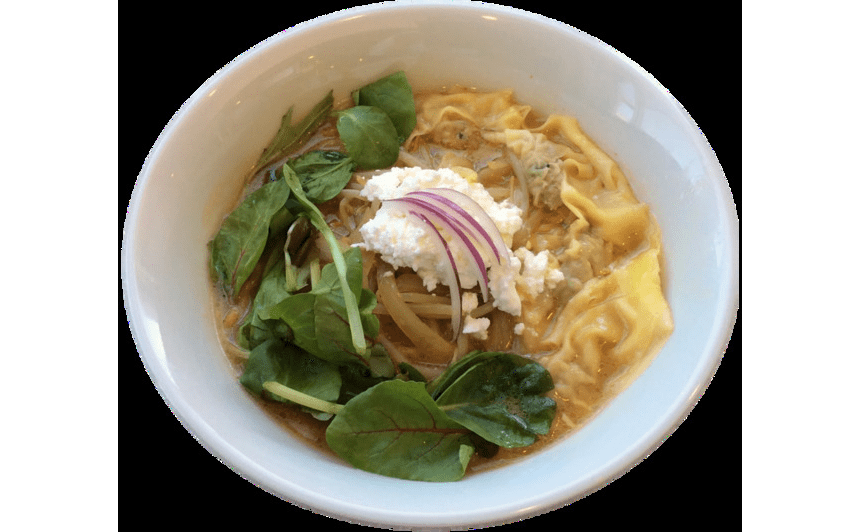 Ingredients
1Tama (a portion of noodles)
40piece
Gara Soup

360cc
Lard

20cc
Bean sprouts

60g
Onion

15g
Minced pork

150g
Baby Leaf

As needed
Cottage cheese

50g
Parmesan cheese

10g
Chopped Green Onion (for wonton)

20g
Grated ginger

2g
Shredded Cheese for pizza

20g
Preparation
Place ingredients for 10 servings, except wonton skins, into a bowl and knead.
Place the filling (1/40 ) from ① in the center of the wonton skin, fold in a triangle and seal the edges.
How to make
Boil noodles and wontons at the same time, boil them separately.
In a frying pan, pour 360cc of soup stock, miso sauce, lard and onion slices and heat.
Place boiled noodles in a donburi bowl and add miso soup from②. At the same time add the boiled wontons to the bowl.
Top with wontons and cottage cheese, and sprinkle parmesan cheese.
Add a baby leaf on top and the dish is complete.
Products used in the recipe