B, L, E Ramen
American's favorite, ramen with lots of bacon!
Ramen with bacon, lemon, and eggs.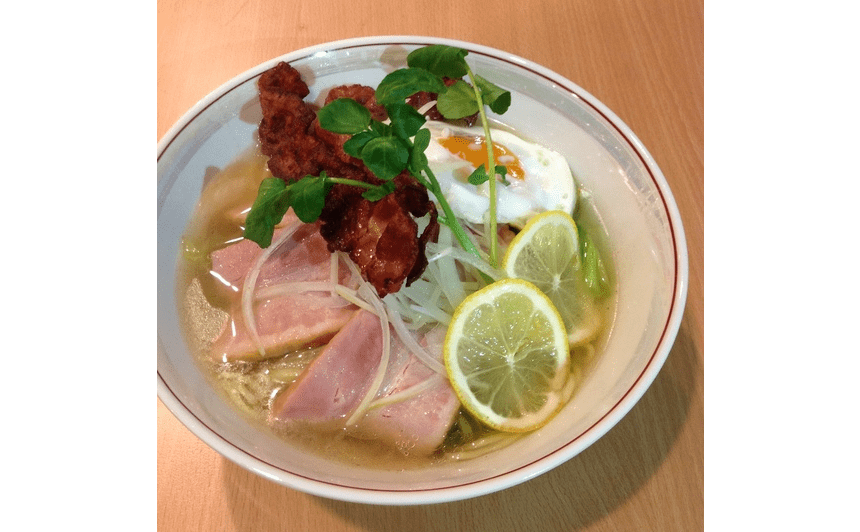 Ingredients
1Tama (a portion of noodles)
Gara Soup

400cc
Onion

30g
Refined rapeseed oil

10g
Thick-sliced Bacon

3Piece
Fried Bacon

2Piece
Thin-sliced Lemon

2Piece
Fried egg

1Piece
Lettuce

50g
Watercress

3g
Preparation
Soak a thin-sliced onion in water.
Cut lettuce into thick slices.
Fry an egg over easy.
How to make
Boil noodles (1 minute 30 seconds)
In a frying pan, heat 10cc of refined rapeseed oil and 2 slices of bacon for about one minute, or until crispy. Then remove only the bacon.
In a frying pan that contains oil from bacon, pour soup stock, and add 3 slices of thick bacon and bring to a boil. Add 30cc of Shiretoko shio tare, and 50g of lettuce right before it is done, and bring to a boil.
Top with fried egg, sliced onions, sliced lemon, crunchy bacon, watercress and dish is complete.
Products used in the recipe