Asari Sakamushi Shio Ramen
Rich flavor of the sea is brought out by asari clams.
Authentic Hokkaido ramen with delicious asari clam essence enhanced by sea salt from the deep sea of Okhotsk.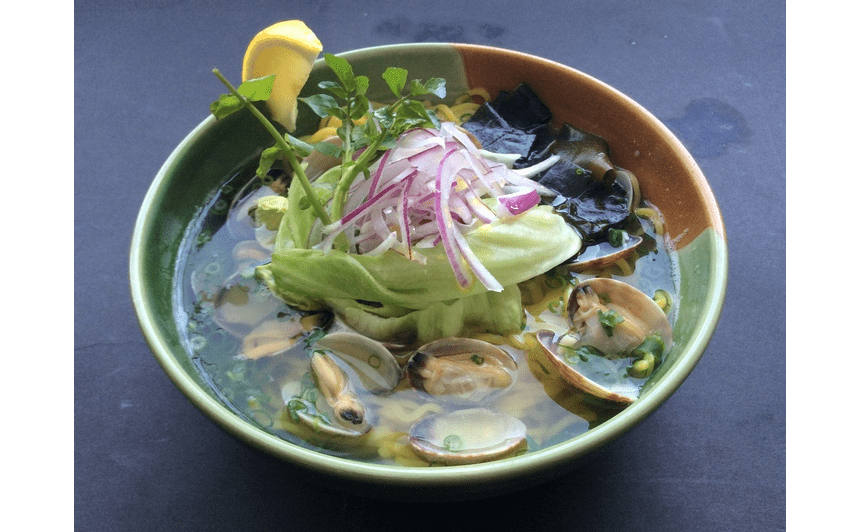 Ingredients
1Tama (a portion of noodles)
Spring onion

4g
Vegetable soup

360cc
Olive oil

5cc
Sake

30cc
Asari Clam

100g
Raw Wakame (moistened)

15g
Lettuce

20g
Red Onion

20g
Watercress

3g
Lemon

1/8cut
Preparation
Add 10 grams of konbu to 10 liters of water and let sit overnight. Then add 80g of onions, 80g of carrots, 250g of cabbage, 60g of burdock, 100g of apple, 60g of peanuts, 20g of powdered sesame (place peanuts and sesame in a stock tea bag), and cook for 20 minutes. *Make sure to remove lye from the burdock by soaking first.

Add 250g of napa cabbage to ①, and cook for ten minutes until done.

Wash the clams well, and place in 300cc of water with 2 teaspoons of salt to get the sand out.

How to make
Boil noodles (1 minute 30 seconds)

Heat a pot and add 100g of clams, 30cc of sake, cover with lid and let cook until the clams open.

Pour 360cc of vegetable soup into the pot from ② and add 36cc of Shiretoko shio tare and heat.

Place noodles in a donburi bowl and pour soup. Arrange clams, lettuce, red onions, blanched fresh seaweed, watercress, and lemon.

Drizzle olive oil over top for a finishing touch.

Products used in the recipe