Tomato Fumi Kaisen Shio Ramen
Great combination of tomato and seafood!
A bowl of ramen full of the exquisite flavor of shellfish and tomatoes.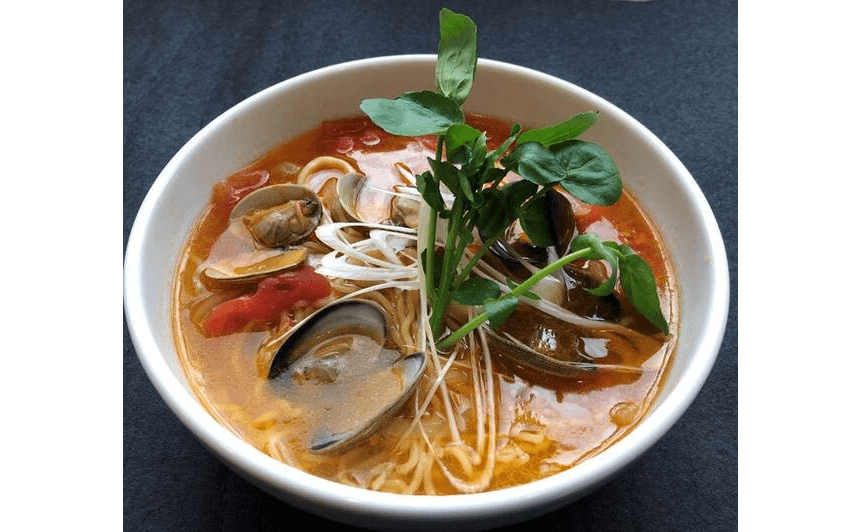 Ingredients
1Tama (a portion of noodles)
Green onion(diagonal cut)

10g
Gara Soup

400cc
Salad oil

50cc
Onion

20g
Grated garlic

1g
Dice cut boiled peeled tomatoes(about 1/2)

80g
Chili Pepper

2.5cc
White Wine

60cc
Watercress

3g
Fresh asari clam

4~5piece
Frozen peeled shrimp

10g
Frozen squid ring

15g
Frozen mussels

1piece
Preparation
Desalination of clams: Place clams in a saline solution containing 3% salt, cover with aluminum to make it dark, and let them sit for 3 hours to spit out sand. Then wash in clean fresh water.
Tomato stripping : Remove the stems from tomatoes, flash boil and soak in cold water to peel, then dice into 2-3 cm squares .
How to make
Place clams, peeled shrimp, squid rings, mussels, and sliced onions in a lightly heated pan, add 60cc of white wine, cover and simmer on high.
When the white wine is evaporated, add 50cc of vegetable oil and chili pepper and stir until red.
Once the vegetable oil turns red, add diced tomatoes and garlic and heat.
Boil noodles
Pour 40cc of Ajiwai shio tare and 400cc of soup stock into a donburi bowl and stir well.
Place boiled noodles in a donburi bowl, add oil from frying pan and put ingredients in and arrange.
Top with green onions (sliced diagonally) and watercress and dish is complete.
Products used in the recipe