Tokusei Chi-yu Maroyaka Tori Paitan Ramen
Special chicken oil is the key!
Thick and rich white chicken broth combined with the aroma of special chicken oil brings out the full flavor of chicken!
Shio
Hot
White chicken broth
Between rich and light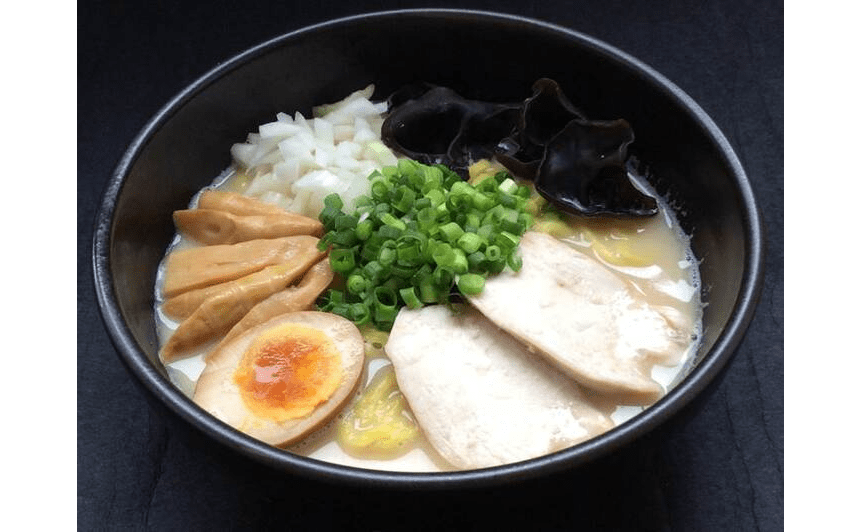 Ingredients
1673 Temomi Men 160g×5

1Tama (a portion of noodles)
Spring onion

10g
Chicken char siu

2Piece
Nishiyama Ajitsuke Hosotake

15g
Gara Soup

360cc
Onion

20g
Wood ear mushroom

20g
Seasoned egg 1/2

1Piece
Special chicken oil

40cc
Preparation
[How to make special chicken oil] 1. Boil 1 liter of water, add 100 grams of chicken skins, and boil for another 5 minutes.

Take the boiled chicken skins and 20 cc of the top of the chicken broth and mix in a blender until creamy. Store in refrigerator.

[How to make chicken thigh char siu] 1. Take one chicken thigh and vacuum pack it. 2. Place in a container (soup warmer) and heat at 80 degrees for 60 minutes, and it is done.

How to make
Boil hand-kneaded noodles.

Pour 360cc of soup stock in a pot and add white chicken tare sauce, special chicken oil, and heat until it boils, then turn off the heat.

Place noodles in donburi bowl and add soup from ②.

Garnish with toppings and dish is complete.

Products used in the recipe