Toridashi Shio Hiyashi Men~Lemon Flavor~
Appetizing lemon flavor!
Salt based cold noodles with the right balance of lemon sourness, chicken umami and bonito flavor.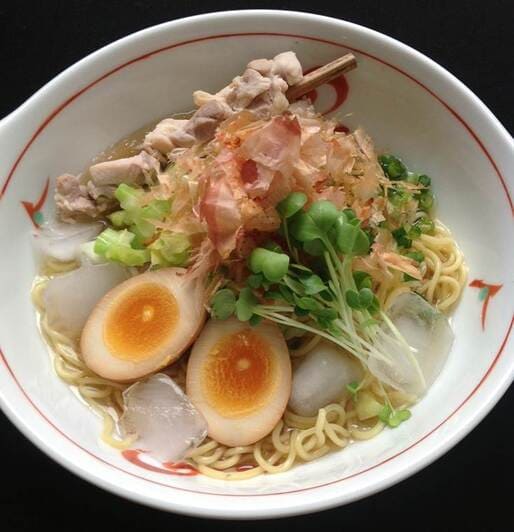 Ingredients
1Tama (a portion of noodles)
Green onion(green part)

5g
Kombu water

160cc
Seasoned egg 1/2

2Piece
Lemon Water

6~7Piece
Dried bonito flakes

3g
Frozen chicken skewer

1Piece
Cabbage

30g
Radish sprouts

5g
Preparation
Add sliced lemons to cold water (water 2 L: lemon slices 3 - 4) and store in the refrigerator overnight to make a chilled lemon water, then transfer to an ice tray to make lemon-flavored ice cubes.
Add konbu to water (2L water : 3 g of konbu), and store in refrigerator overnight to make konbu water.
How to make
Boil noodles and cool in cold water.
Boil frozen chicken skewers for two minutes and cool in cold water. Slightly boil cabbage and chill well.
In a bowl, pour Reisei torishio tare, add chilled konbu water and stir.
Add chilled noodles to ③, and garnish with seasoned egg (sliced), cabbage, and chicken skewer.
Products used in the recipe