Tantanmen with hand-made spicy flavor oil
An irresistible and original spicy Tantanmen!
Homemade chili oil made with generous amounts of spices is the key to great taste! !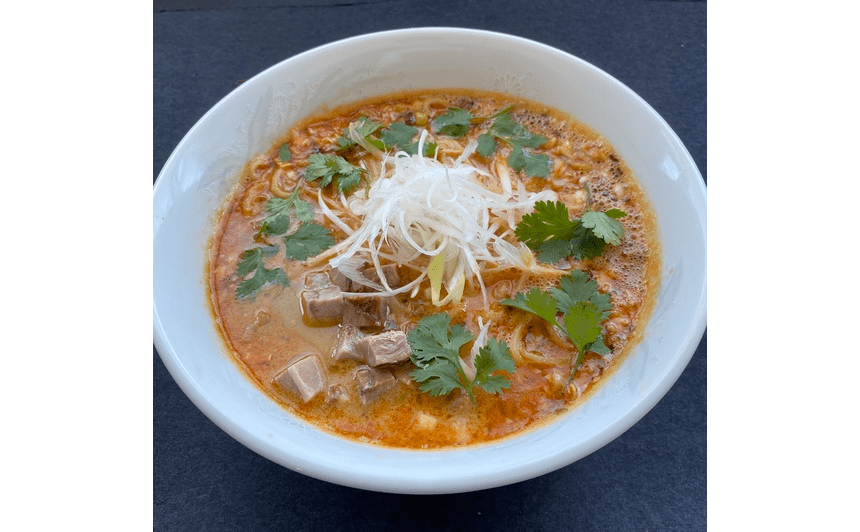 Ingredients
1Tama (a portion of noodles)
Spring onion

15g
Green onion(diagonal cut)

20g
Char siu(dice cut)

40g
Gara Soup

400cc
Sesame paste

60cc
Homemade chili oil

30cc
Extra spicy oil

5cc
Coriander

As needed
Preparation
Make homemade chili oil(see recipe on separate page)
Place sesame paste into a bowl, and continue to mix until the sesame oil and paste are blended.
How to make
Boiled noodles (1 and a half minutes)
In a donburi bowl, add 36cc of Nishiyama shoyu tare shiro label , 60cc sesame paste, 30cc of homemade chili oil, 15g of chopped green onion, and 400cc of soup stock.
Place boiled noodles in a donburi bowl and melt sesame paste with heat from noodles, and toss well.
Pour 5cc of spicy oil over in a circular motion, then top with 40g of chopped char siu, a small amount of coriander, and 20g of green onions sliced diagonally and dish is complete.
Products used in the recipe