Reisei Vege Karamiso Ramen
A bowl full of delicious vegetable flavor!
Spicy chili oil whets your appetite.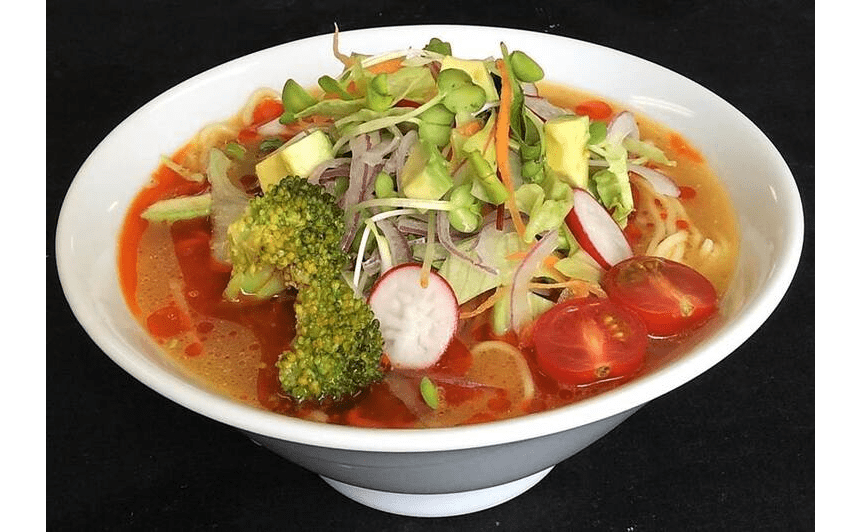 Ingredients
1Tama (a portion of noodles)
Green onion(diagonal cut)

10g
Vegetable soup

360cc
Apple Juice

10cc
Sesame chili oil

15cc
Mini Tomato

1Piece
Carrot

5g
Broccoli

2Piece
Radish

1Piece
Red Onion

10g
Avocado

10g
Lettuce

50g
Radish sprouts

5g
Preparation
[How to make chilled vegetable soup] Add 10 grams of konbu and 6 grams of dried shiitake mushrooms to 10 liters of water and let sit overnight.

Add 80g of onions, 80g of carrots, 250g of cabbage, 60g of burdock, 60g of peanuts, and 20g of powdered sesame (place peanuts and sesame in a stock tea pack) to ①, and cook for 20 minutes. **Make sure to remove lye from the burdock by soaking first.

Add 250g of chinese cabbage from ②, and cook for 10 minutes until done.

How to make
Boil noodles

In a donburi bowl, add miso tare, chili oil, apple juice, and chilled vegetable soup and mix well.

Rinse the boiled noodles, chill well and place in a donburi bowl. Garnish with toppings and dish is complete.

Products used in the recipe