Tomato Karamimen ready to mix
Enjoy the Italian taste!
Healthy tossed noodles. Thick, low-carb noodles pair well with tomatoes and spices.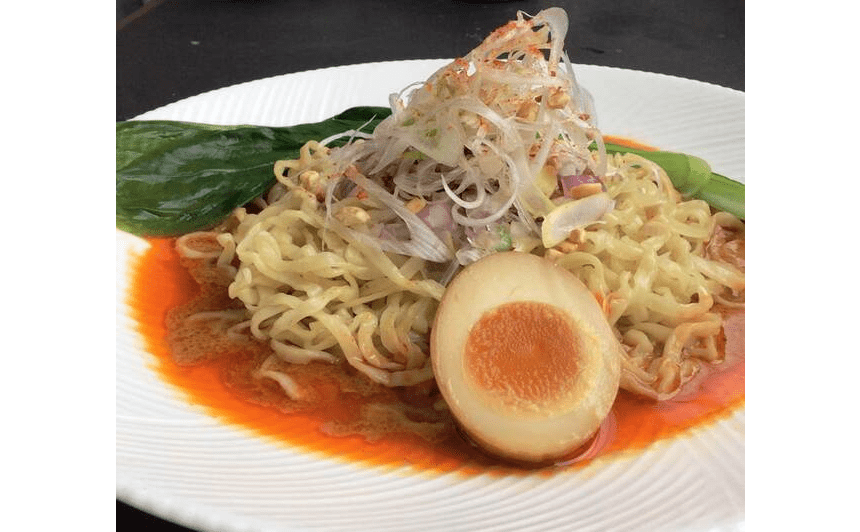 Ingredients
1Tama (a portion of noodles)
Nishiyama Karami Funmatsu

2g
Green onion(diagonal cut)

20g
Olive oil

As needed
Grated garlic

3g
Minced chicken

20g
Toasted sesame

As needed
Tomato Juice(unsalted)

190cc
Black Pepper

A little amount
Potherb mustard (5cm wide)

30g
Myoga Ginger(shredded)

3g
Coriander(2cm wide)

5g
Preparation
Cut green onions, potherb mustard, myoga ginger and ginger. Soak the gingers in cold water then dry. Add the four vegetables together in advance.
How to make
Boil noodles (about 4 minutes 30 seconds to 5 minutes)
n a pot, heat olive oil and grated garlic until the aroma is present, then add ground chicken and saute. When the meat is 80% done, pour in tomato juice and Nishiyama dashi shoyu tare, stir and let boil once. Then add black pepper and Nishiyama karami funmatsu to season and turn down the heat.
Arrange boiled noodles in a donburi bowl and pour tare from ② over noodles.
Add prepared flavored vegetables to the noodles, garnish with coriander and roasted sesame seeds and dish is complete.
Products used in the recipe