Spicy Soup Curry Ramen
Representative of the 2 most famous Sapporo's soul food!
Sapporo ramen ×Sapporo soup curry = Ideal menu for hot summer. " Made with special curry soup whose spiciness you can adjust as you like.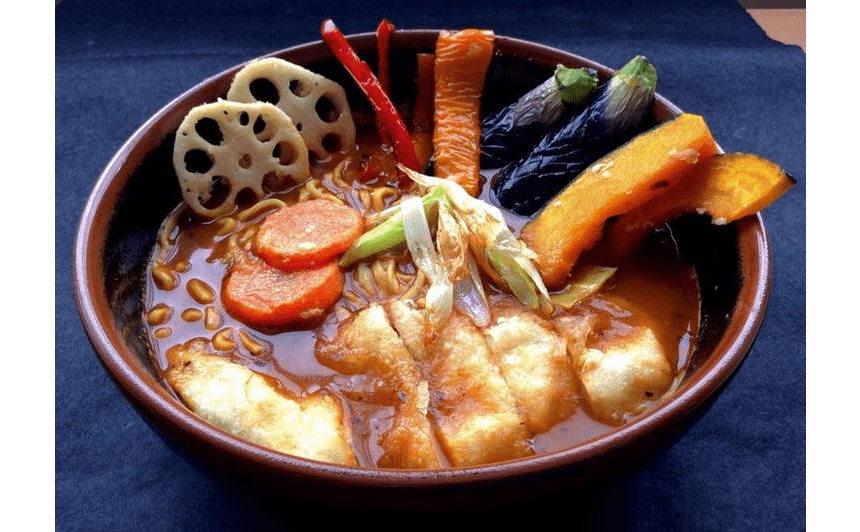 Ingredients
Bell Sapporo Soup Curry 0 kara★

60cc
E-295 Nishiyama Karami no Moto

30g
Gara Soup

400cc
Green onion(diagonal cut)

15g
Cabbage

45g
Fried chicken breast

90g
Carrot

40g
Lotus root

30g
Paprika (orange)

30g
Paprika(red)

2piece
Eggplant

2Piece
Preparation
[How to make chicken breast Tatsutaage] 1. Cook the chicken breast using a vacuum cooker and marinate in sauce. Coat the chicken in starch and deep-fry it to make a Tatsutaage, then cut into bite-size pieces.

2. Boil the vegetable toppings (pumpkin, carrots, and lotus root), and deep-fry without batter. Deep-fry the other ingredients such as eggplant, paprika, and green onions.

How to make
Boil noodles

In a heated chinese wok, add 400cc of soup stock and cabbage.

Dissolve Sapporo Soup Curry 0 Kara, and karami no moto to soup, let boil, and turn off the heat.

Place noodles in a donburi bowl, pour soup from ③, and arrange vegetables.

Top with ingredients and dish is complete.

Products used in the recipe