Shibikara tomato Ramen
An irresistible hot and spicy curry ramen!
A new sensational curry with authentic spices will make you hungry!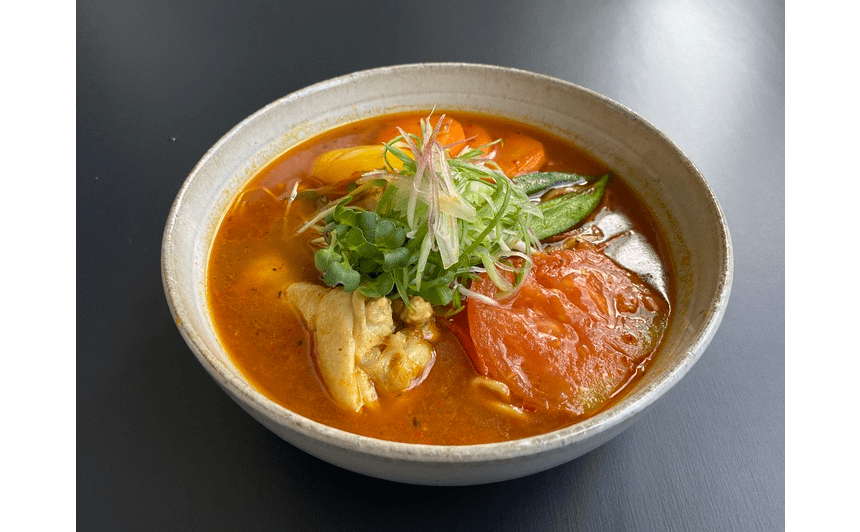 Ingredients
1Tama (a portion of noodles)
Koku Curry Funmatsu

2.5cc
Nishiyama Karami Funmatsu

2.5cc
Green onion(diagonal cut)

30g
Gara Soup

400cc
Grated garlic

1Piece
Homemade chili oil

10cc
Extra spicy oil

2.5cc
Coriander

1Dash
Oregano

1Dash
Cardamom

2Dash
Sichuan pepper

1Pinch
Chopped ginger

1Pinch
Sliced tomato

2Piece
Chicken wing

1Piece
Sliced carrot

3piece
Paprika

1cut
Okra

2Piece
Radish sprouts

As needed
Myoga ginger

As needed
Preparation
Make homemade chili oil(see recipe on separate page)
Boil the chicken wings.
How to make
Boiled noodles (1 and a half minutes)
In a pot, pour 400cc of soup stock, boiled chicken wings, carrots and boil. Add okra and paprika, one clove of garlic(grated), and chopped ginger. Add 20cc of Nishiyama curry ramen no moto, 2.5cc of Koku curry powder, 2.5cc of Nishiyama karami funmatsu, a dash of coriander, a dash of oregano, two dashes of cardamom, and a pinch of ground green Shichuan pepper. Add 10cc of homemade chili oil and 2.5cc of spicy oil to this.
Add tomatoes to ② and heat well.
Place boiled noodles in a donburi bowl and add soup from ③. Top with chicken wing, tomatoes, carrots, okra, and paprika.
Top with 30g of green onions sliced diagonally, a small amount of radish sprouts, and myoga ginger and the dish is complete.
Products used in the recipe