Mizore Tomato Hiyashimen ready to mix
Perfect choice for summer
Pink cold noodles with red tomatoes, white radishes, yellow of eggs and green okra.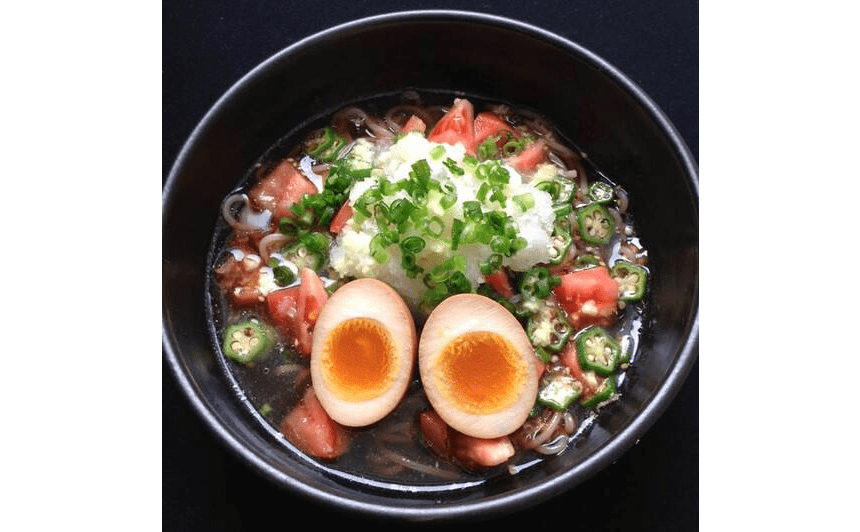 Ingredients
1Tama (a portion of noodles)
Green onion(green part)

5g
Grated ginger

5g
Seasoned egg 1/2

2Piece
Toasted sesame

3g
Sesame Oil

5cc
Okra

3g
Grated daikon

50g
Tomatoes (dice cut)

1/2Piece
Preparation
Add konbu to the water (water 2L: konbu 3g) and store in the refrigerator overnight to make a chilled konbu water.
Lightly boil the okra with a little salt, chill in cold water and slice thin. Dice tomatoes.
Take the Nishiyama Chilled Ramen Soup and add it to konbu water from ① at a ratio of 1:5, then add the okra and tomatoes from ②, and sesame to make the okra sauce.
How to make
Boil tomato Reimen (3 min) and cool in cold water.
Place chilled cold noodles on a serving dish and pour the okra sauce over.
In bowl from step ②, place boiled egg, grated daikon radish, green onions, and garnish with fresh-grated ginger.
Products used in the recipe