Shinmugi Ramen ~Fall ramen using wheat miso~
A bowl that can only be eaten in autumn!
Noodles are made from freshly harvested buckwheat. Miso ramen made with wheat miso and the ingredients harvested in fall.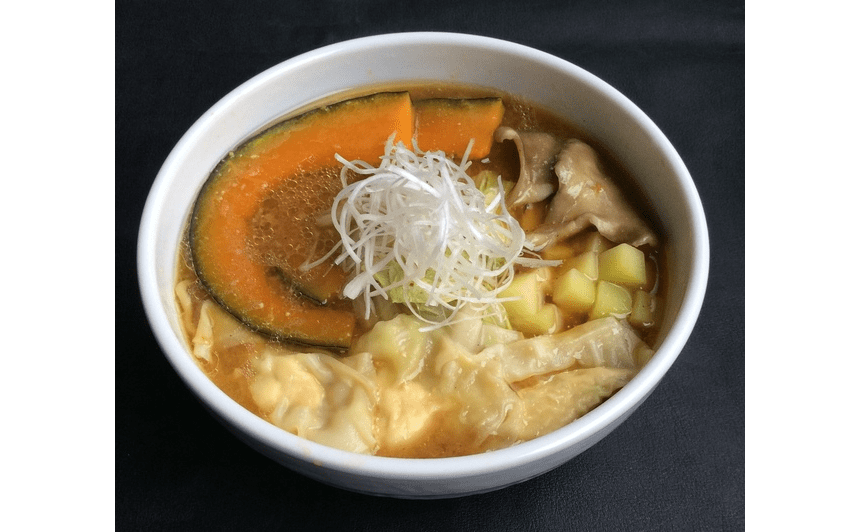 Ingredients
1Tama (a portion of noodles)
3piece
Green onion(white part, thinly sliced)

10g
Gara Soup

360cc
Lard

30cc
Chinese cabbage rib

30g
Chinese cabbage leaf

20g
Maitake mushroom

20g
Salmon wonton

3piece
Potato

40g
Sliced pumpkin

2piece
Preparation
Salmon Wonton (40 pieces) 1. In a food processor mix together 200 grams of salmon filets, 10g of chopped green onions, and an egg to make the salmon wonton filling.
Wrap filling from ① in wonton skin. (store in freezer) *Boil the thinly sliced pumpkin and diced potatoes in advance. *Chinese cabbage (leaves and ribs)
Cut the leaves (green part) and the ribs (white part) separately.
How to make
Boiled noodles (1 and a half minutes)
In a pot, heat 400cc of soup stock, onion wedges, bean sprouts, 50cc of aka miso tare and 30cc of lard and let boil.
In a pot, pour 360cc of soup stock and add the chinese cabbage (leaves and ribs), maitake mushrooms, boiled pumpkin, potatoes, 50cc of mugi miso tare, and 30cc of lard and mix well. Bring to a boil.
Place noodles in a donburi bowl and add ②.
Arrange vegetables so that chinese cabbage is on top.
Finally, add salmon wontons and thin-sliced green onions and dish is complete.
Products used in the recipe