Shinmugi Ramen ~with onion sauteed in butter and red miso~
A bowl that can only be eaten in autumn!
Red miso ramen made with season newest wheat noodles and plenty of sweet onions.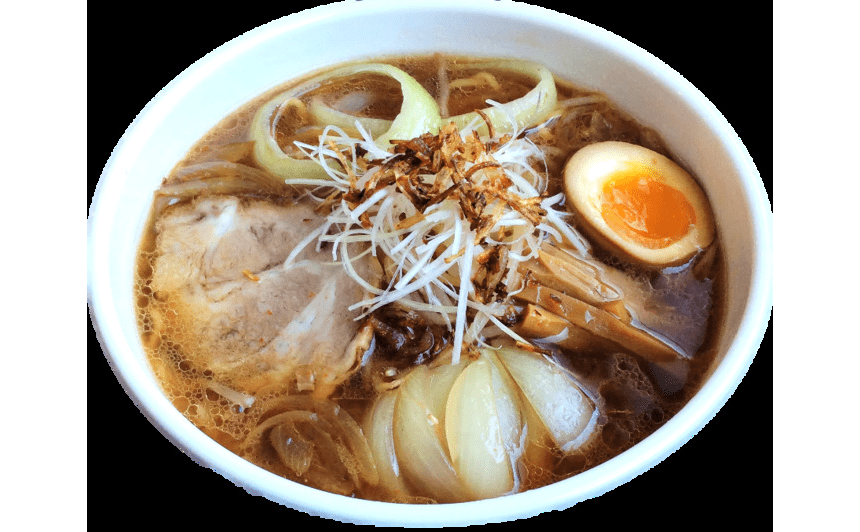 Ingredients
1Tama (a portion of noodles)
Green onion(white part, thinly sliced)

10g
Char siu(shoulder)

1piece
Menma

20g
Gara Soup

400cc
Lard

30cc
Bean sprouts

70g
Seasoned egg 1/2

1piece
Onion (Wedges)

50g
Sliced fried onions

2piece
Fried Onion

5g
Onion sauteed in butter

30g
Preparation
Make an onion butter saute (8 servings). (In a frying pan add 20g of butter, and one thin-sliced onion and saute until golden.)
Deep-fry onions (slice in rounds, and quickly deep-fry). Crispy-fried onions (Thin-slice onions and deep-fry until crunchy.)
Cut onions into wedges.
How to make
Boil noodles (1 minute 30 seconds)
In a pot, heat 400cc of soup stock, onion wedges, bean sprouts, 50cc of aka miso tare and 30cc of lard and let boil.
In a donburi bowl add 30g of butter-sauteed onions and pour soup from ②.
Add noodles to donburi from ③.
Arrange vegetables so that bean sprouts are on top, and add onion wedges.
Top with ingredients, and add deep-fried onion chips all over and dish is complete.
Products used in the recipe