Yakimiso Ae Men
Fresh raw eggs bring out a mild taste!
Mixed soup noodles with stir-fried vegetables and ginger. The aroma of grilled miso and the mellowness of the egg exquisitely enhance the flavor and go well with the springy noodles!
Miso
Soup-less
Sapporo style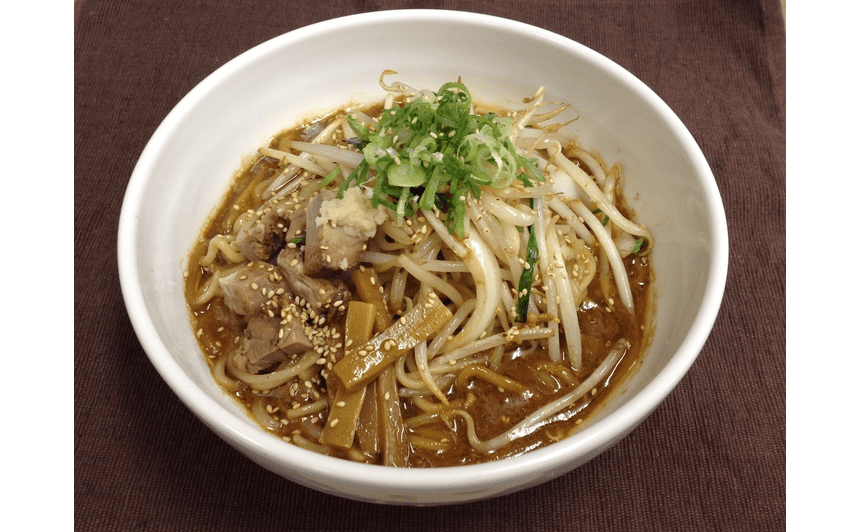 Ingredients
1Tama (a portion of noodles)
Green onion(chopped)

20g
Char siu(dice cut)

5~6piece
Menma

4~5Piece
Gara Soup

150cc
Bean sprouts

50g
Onion

7~8piece
Minced pork

20g
Grated ginger

5g
Toasted sesame

As needed
Sansho powder

A little amount
Raw Egg

1piece
Chives (5cm long)

3~4Piece
How to make
Boil noodles (about 3 minutes)

In a chinese wok, add 30cc of Miso Yo Chomi-yu, miso tare, ground pork, bean sprouts, 2-3 onions, sansho powder and cook, stirring to prevent miso from burning. Then add soup stock and stir well.

Crack an egg into a donburi bowl and lightly whip. Add soup from ②, and boiled noodles. Arrange noodles nicely.

Heat 20cc of miso yushi in a chinese wok and saute the remaining bean sprouts, onions, and chinese chives on high. Then garnish in donburi from ③.

Top with char siu, bamboo shoots, green onions, and sprinkle roasted sesame seeds over the top. Garnish with grated ginger and dish is complete.

Products used in the recipe