Hotate Butter Shoyu Ramen
Fully enjoy the flavor of the sea!
The strong umami flavor of the scallop bouillon brings out the flavors of soy sauce and butter!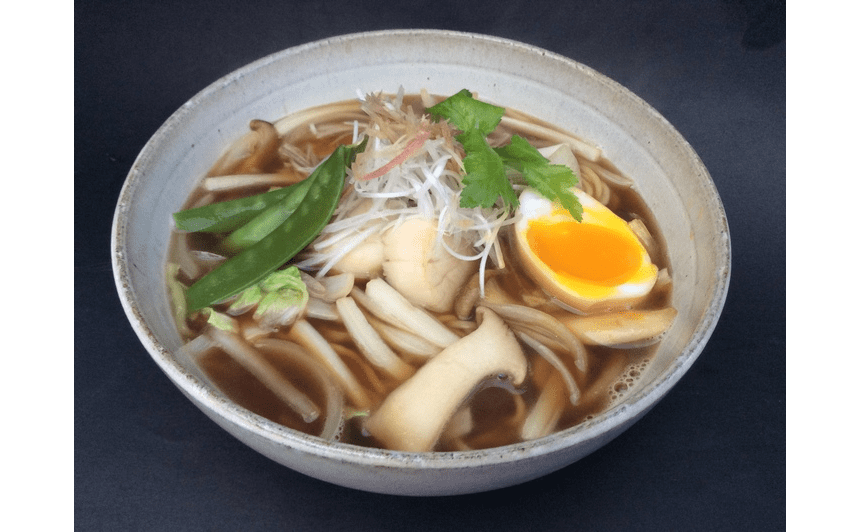 Ingredients
1Tama (a portion of noodles)
Green onion(white part, thinly sliced)

10g
Vegetable soup

360cc
Chinese cabbage

35g
Onion

45g
Seasoned egg 1/2

1Piece
Bones stock of fish from Hokkaido

10g
Fresh scallops(for sashimi)

40g
King trumpet mushroom

25g
Field peas

8g
Myoga ginger(shredded)

5g
Japanese wild parsley

1Piece
Preparation
How to make vegetable soup 1. Add 10 grams of konbu to 10 liters of water and let sit overnight.

Add 80g of onions, 80g of carrots, 250g of cabbage, 60g of burdock, 100g of apple, 60g of peanuts, and 20g of powdered sesame (place peanuts and sesame in a stock tea pack) to ①, and cook for 20 minutes.

How to make
Boil noodles (1 minute 31 seconds)

Melt butter in a frying pan and add scallops, onion slices, and king trumpet mushroom and saute. Add 6cc of shoyu tare and 360cc of vegetable soup stock.

In a frying pan in ②, add chinese cabbage, parboiled field peas and 30cc of shoyu tare. Mix well and heat.

Place noodles in a donburi, pour soup, arrange ingredients, add egg, field peas, Japanese wild parsley, thin-sliced green onions, and myoga ginger and dish is complete.

Products used in the recipe