Ebi Ajillo Shio Ramen
Shrimp and garlic flavor makes the taste!
New wheat noodles, savory soup with shrimp Ajillo sauce (green onion garlic sauce) and shrimp oil. Ramen filled with the rich aroma of shrimp and garlic. *Ajillo means...diced garlic.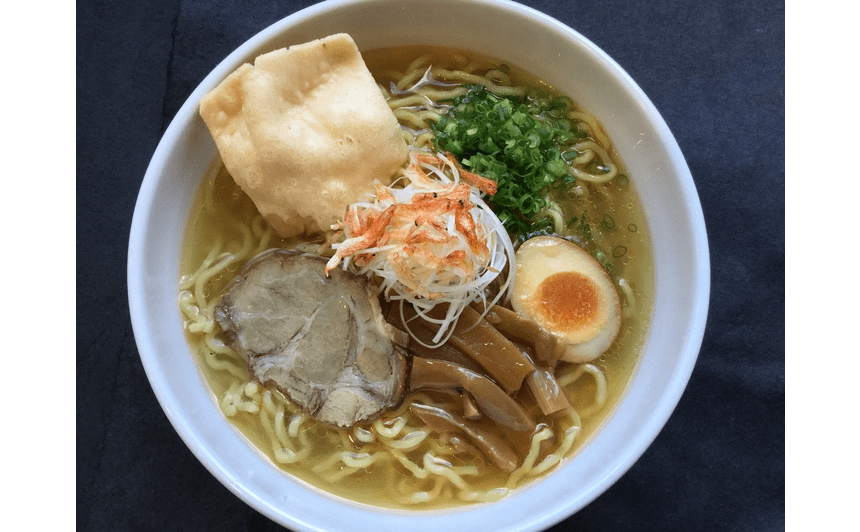 Ingredients
1Tama (a portion of noodles)
Ebi Ajillo Bar Sauce

30cc
5cc
Green onion(white part, thinly sliced)

10g
Green onion(chopped)

8g
Char siu(shoulder)

1piece
Menma

20g
Gara Soup

400cc
Seasoned egg 1/2

1piece
Sakura shrimp(small pink shrimp)

2g
Shrimp rice crackers

1piece
How to make
Boil noodles
In a donburi bowl, add 30cc of Ebi ajillo bar sauce, 20cc of Shiretoko shio tare, and 400cc of soup stock and heat while stirring.
Place boiled noodles in donburi from ②, and add chopped green onions, bamboo shoots, seasoned egg, half-sliced char siu. Garnish with thinly sliced green onions and sakura shrimp in the center.
Garnish with shrimp rice crackers, pour 5cc of shrimp oil over and dish is complete.
Products used in the recipe