Vege Karamiso Ramen
For those who like spicy taste, add it 1 to 5 times more.
Spice powder can be used flexibly as a topping for ramen. Free for twice the amount, 100 yen for 3 times.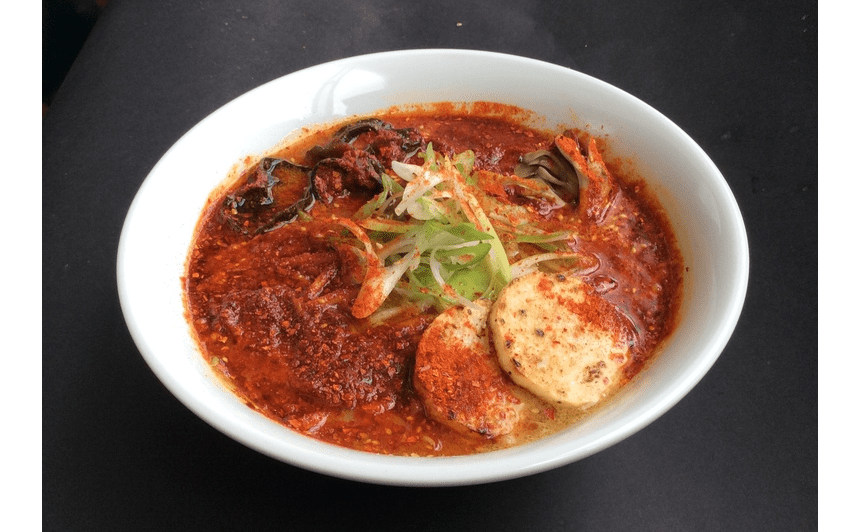 Ingredients
1Tama (a portion of noodles)
Nishiyama Karami Funmatsu

1.5g
Nishiyama Shikomi Flavor Oil

30cc
Green onion(diagonal cut)

20g
Vegetable soup

360cc
Onion

20g
Bean sprouts

70g
Toasted sesame

As needed
Wood ear mushroom

10g
Cabbage

30g
Maitake mushroom

20g
Carrot

10g
Roasted chinese yam

2cut
Preparation
How to make vegetable soup 1. Add 10 grams of konbu to 10 liters of water and let sit overnight.

Add 80g of onions, 80g of carrots, 250g of cabbage, 60g of burdock, half an apple, 60g of peanuts, and 20g of powdered sesame (place peanuts and sesame in a stock tea pack) to ①, and cook for 20 minutes.

Add 250g of chinese cabbage from ②, and cook for 10 minutes until done.

How to make
Boil noodles

Heat a chinese wok and add saute beansprouts, cabbage, onions, maitake mushrooms, and carrots in shikomi flavor oil.

After ② is sauteed, add miso tare and vegetable soup and bring to a boil.

Place noodles in a donburi bowl and pour ③, add remaining toppings and dish is complete.

Products used in the recipe