Ebi Ajillo Mazesoba
Full of of shrimp and garlic flavor
Season newest wheat noodles match perfectly with shrimp ajillo (oil and garlic sauce). Enjoy the delicious flavor of shrimp and noodles.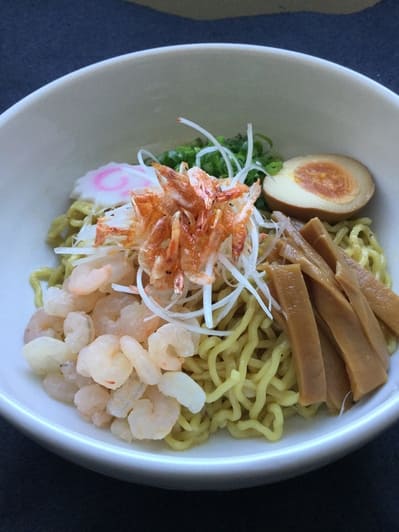 Ingredients
1Tama (a portion of noodles)
Ebi Ajillo Bar Sauce

30cc
5cc
Green onion(white part, thinly sliced)

10g
Green onion(chopped)

8g
Menma

20g
Seasoned egg 1/2

1piece
Boiled shrimp

30g
Naruto fish cake

1cut
Sakura shrimp(small pink shrimp)

2g
How to make
Boil noodles
In a donburi bowl, add 30cc of Ebi ajillo bar sauce, 5cc of shrimp oil, and boiled noodles and toss well.
Add boiled shrimp, bamboo shoots, seasoned egg, chopped green onions, and naruto fish cake. Garnish with thinly sliced green onions and sakura shrimp in the center.
Products used in the recipe