Ebi Ajillo Yakisoba
Tasty shrimp flavor, you can't resist.
Yakisoba made with season newest wheat noodles, shrimp ajillo (oil and garlic sauce) and shrimp oil. Enjoy the full flavor of shrimps.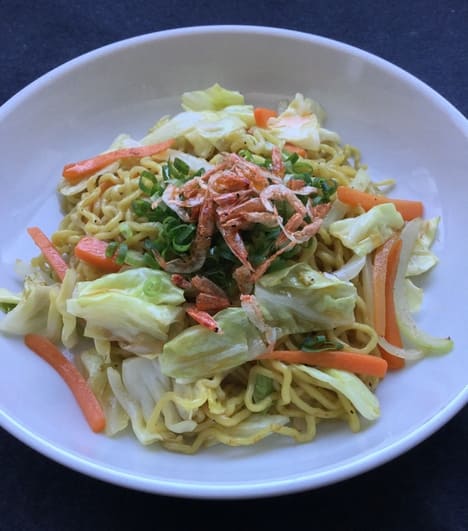 Ingredients
1Tama (a portion of noodles)
Ebi Ajillo Bar Sauce

30cc
5cc
Green onion(chopped)

5g
Salad oil

20cc
Onion

20g
Cabbage

50g
Carrot

20g
Sakura shrimp(small pink shrimp)

2g
How to make
Boil noodles (1 minute) *Cook them al dente
In a frying pan, heat vegetable oil and saute cabbage, onions, and carrots for about one minute.
Add boiled noodles to the frying pan in ②, mix well with vegetables and saute. Add 30cc of Delica Shrimp Ajillo Bar sauce and saute a little longer.
Place on a serving dish and top with chopped green onions and 2g of sakura shrimp.
Drizzle 5cc of "Wako ebi oil" over the top and dish is complete.
Products used in the recipe